We use The Academy to accomplish our corporate goals and mission.
The Academy is a 12-module program focused on food, sleep, stress and exercise.
The objective is to take those enrolled and move them to a place of better health and greater confidence in health-related decisions.
Consumers need both of these. Overall, the incidence and prevalence of chronic conditions continues to grow rapidly, including those in the "pre-" diagnosis category. Combine these increasing populations with increases in the yearly cost of doing business, and you get the exponential growth in healthcare expenses we see today.
So it is clear something must be done about this but most of what has been tried isn't very effective. This is unfortunate because an effective implementation can have a significant impact in many areas. From a corporate perspective, reducing rates of prescription medication usage or eliminating chronic conditions can have a significant impact on healthcare costs. Additionally, the collective culture of a healthier environment will pay dividends in many areas, including productivity, absenteeism and more. While individuals will also benefit financially, particularly with co-pays and high-deductible plans, the comfort and confidence in knowing their health is better is also a major benefit.
This is where The Academy can have a significant impact.
The Academy – content, recommendations and delivery are key!
In terms of content, we approach health a little different than most programs – whether it is a "Wellness" program from a vendor, carrier or broker. For most of these programs, there are two messages they all contain: 1) Eat Less Food and 2) Do More Exercise.
Certainly, these two messages are important. But they fall short in a couple of key areas. One is engagement. Rarely do those needing a program like this the most enroll. Two, this message doesn't work for them.
Through research, our President and CEO, Brian Sekula, learned that hunger wasn't simply a mental issue. In other words, willpower isn't the only thing that matters. That's why we start The Academy with two modules on hunger – how and why the body gets hungry. In the "How" module we cover the physical aspects of hunger – how our food choices influence hunger. In the "Why" module we cover the mental aspect – how food choices influence our brain, which influences our behavior.
Listed below are the 12 Modules in The Academy.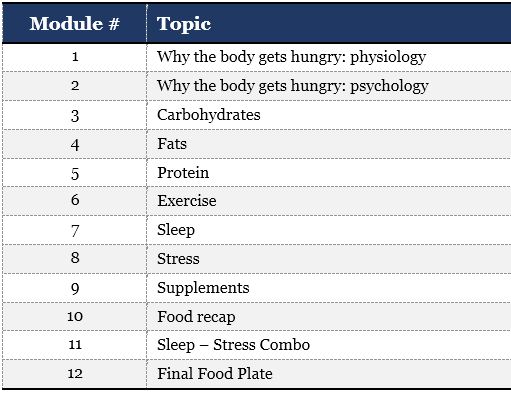 Each of these modules includes the following:
A main article and a summary article
A To Do List and Module Guide
An online presentation
An "Additional Resources" section which contains more helpful material
Additionally, we have a recipes section that contains items to prepare that meet all of our guidelines and recommendations. Currently, our two most popular recipes are: Home made Mexican Coke Ice Cream and Greek Vinaigrette Salad Dressing.
Delivering our Content
This is the exciting part because we can explain the research and discuss our recommendations. It allows us to have a real impact on helping those enrolled in The Academy.
We deliver the seminars in several different ways, including:
Live, in-person presentations. This is for our corporate clients and involves us going on-site and delivering the presentation to the employees enrolled.
Webinars. We offer both live and previously recorded webinars as options.
Online videos / presentations. We have recorded presentations and videos for each of the modules available online.
In addition to the above, we have an email series that starts with module 1 and concludes with module 12. These start when the individual (or group) enroll and continue with a weekly email until they have made it through all 12 modules. These emails support the material in the module, highlight a particular recipe and provide tips on being successful.
Finally, for all enrolled in The Academy, we hold monthly Q&A webinars and have a private Facebook group. Members of The Academy are eligible to join the private Facebook group where they can post questions, get help and support and find others in The Academy. They can also post their questions for the monthly Q&A webinars in the Facebook group.
The Recommendations
We start with our recommendations in Module 1 and build from there. In each successive module, we build on the previous with small adjustments. This time and adjustment combination makes it more likely that people are able to stick with our recommendations.
So what do people experience?
We are going to look at this in a couple of different ways.
From a company perspective, we typically see the following:
An approximate 40% reduction in targeted medications on a pre- and post-basis. Within that number, we are certainly better at some conditions than others. For example, our success rate with type 2 diabetes is the best when compared to all chronic conditions. We have seen about a 50% elimination rate for the use of insulin and significant changes in the amount needed for the remaining 50%. If you know the cost of insulin, this is a significant savings.
We are currently working with a municipality that has realized an approximate ROI of $1.50 for each dollar invested in The Academy.
We see about a 20% greater engagement than predicted by the employer. This occurs for a couple of reasons. One, our message resonates with those needing it the most. And, two, we like to have group competitions that tend to get more people involved. We use a daily score for this and post weekly group scores for comparison. This is a small thing but it has a tremendous impact.
Beyond all of this, we bring a level of comfort to the decision makers within a company. Prior to The Academy, budgeting for annual increases in healthcare was stressful. Reducing medication loads, reducing the amount taken and improving employee health has some real and significant cost savings. And this results in less worry about "Where to find the money to pay for this."
On a side note: If you are an employee benefits professional, you might consider signing up for our free and monthly webinar series.
For our individual customers, the information above is important for them to know. They have some idea of what to expect, but in addition to the above, we provide:
Less worry. We all want to look and feel better. Regardless of what most of us would say, deep down, we don't like being a guinea pig for the pharmaceutical industry. So if there is a way to provide hope for people to get off their medications, we offer it.
More confidence. These go hand-in-hand, but just knowing how the decisions you make impact your health brings confidence. Prior to The Academy, many people put very little thought into food or exercise choices. After The Academy, their understanding has increased and they know what to do.
The level of importance for these two outcomes cannot be overstated.
To finish up our outcomes, this image shows how members of The Academy have changed within the first month of enrollment.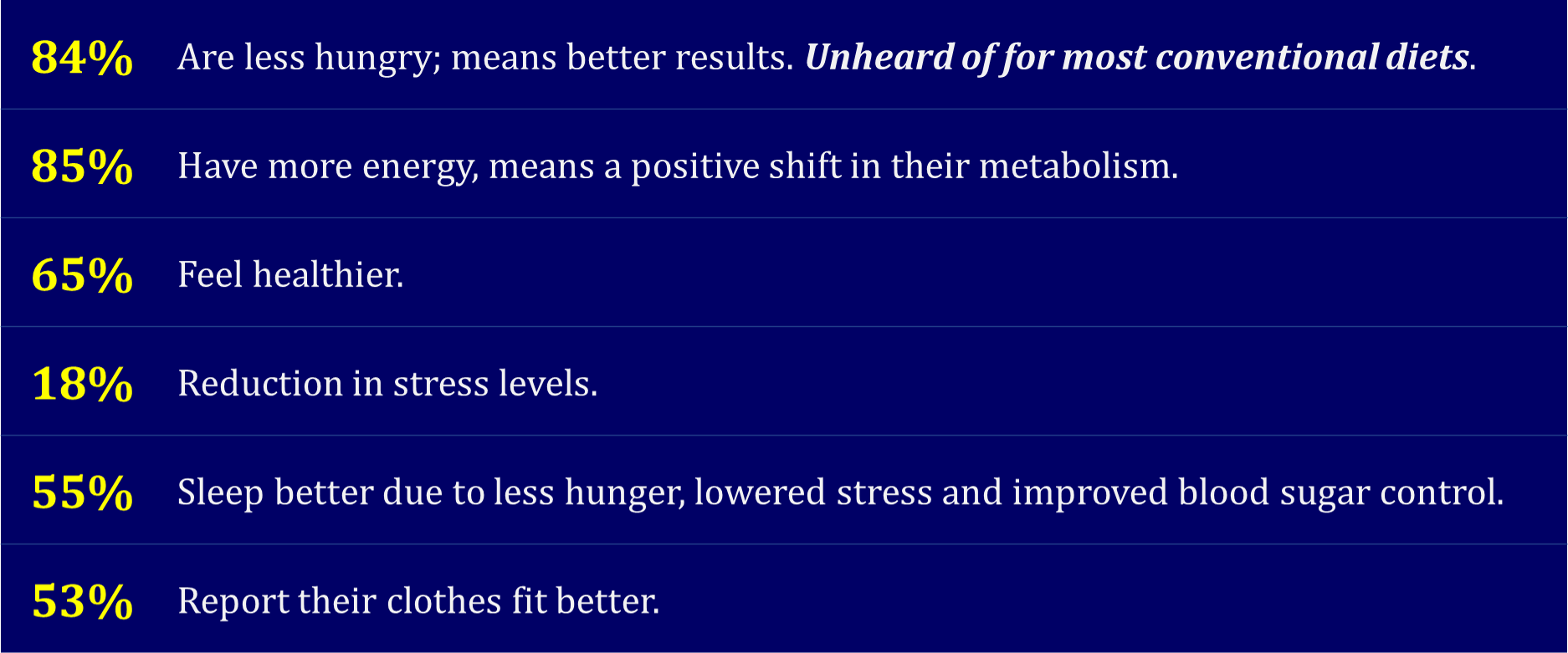 So 84% of the people that enroll in The Academy experience less hunger and eat less food during the first month of the program, yet they have more energy. This may seem paradoxical but it's not.
So who should enroll in The Academy
Anyone, really.
But we like to say there are four groups of people ideal to enroll in The Academy.
If you are an individual and fit into one of these groups, you should enroll. If you are a company and have a lot of employees that fit this description, you should contact us and see how helpful we might be for you and your employees.
Busy schedule? Lots of obligations? Want something effective and easy to implement? Check, check, check. The results come quickly and following the recommendations only gets easier.
Suffering from type 2 diabetes, high blood pressure, high cholesterol or acid reflux? A major objective of The Academy is to improve your health so your body no longer needs prescription medication to control these conditions. We have been very successful at doing this. In fact, we have helped MANY people get to a point where, in consultation with their personal physician, they no longer need prescription medication! (Note: We are not medical doctors nor are we your personal physician. The decision to change or remove medication from your regimen is between you and your physician.)
If you are at risk for any of the above, then definitely! It is ALWAYS better to "nip this in the bud" so you don't get diagnosed with one of these conditions. Whether you have a family history or you have been told you are "pre-" one of these conditions, the time to address it is now. Otherwise, it gets harder once the diagnosis has been made.
If you are kind of a sciencey-nerdy food or health person. Another way to say this: If Alton Brown is your favorite person on the Food Network, you'll love The Academy. We get into the science of your body – how it functions and why we make these recommendations. It's not like you need a background in chemistry, physiology or biology to understand what we cover – because we bridge that gap in our readings, seminars, presentations and all materials – but we find our members appreciate these explanations. And based on the thousands attending Alton Brown shows, there is an appetite for this knowledge!
If you are an individual and would like to learn more about The Academy – how it can be helpful to you personally – we encourage you to sign up for The Academy email list.
If you would like to enroll now, click here to be taken to our enrollment page.
If you are with a company and interested to learn if The Academy may be helpful to your company and its employees, fill out this contact form or send us an email. We will get back to you as soon as possible.