The Health Performance Institute (HPI)
Our Mission:
To eliminate the chronic conditions of type 2 diabetes, high blood pressure and high cholesterol from the general population by the year 2020!
You don't need us to tell you that healthcare costs are a growing concern.
There isn't a single company we work with or meet that doesn't try to address this on an annual basis (at least).
But what you do need us to tell you is this:
We can help you!
What we do
We work with companies, both large and small, to help their employees reduce the number of prescription medications they take.
It's not just any of the medications they take, it is those for three (or four) of the main chronic conditions. The ones that never go away. The ones that seem to get more expensive and taken by more employees each year.
Those chronic conditions:
Type 2 diabetes
High blood pressure
High cholesterol
Acid reflux (a separate program)
Based on our above stated mission, each and every day we get up and try to figure out more ways we can help more people.
How we work toward our mission
We accomplish this with The Academy, our program focused on food, sleep, stress and exercise.
This is VERY different than what some might put in the category of a wellness program.
Here is the main reason we are different:
Our approach is to view the problem (chronic disease) and prescribe a game plan (The Academy) to fix the problem, so medication is much less likely or even needed. Current health and wellness programs play the calorie game – eat less food, do more exercise. While this is important, it is MORE important to understand the problem and how to fix it. That's what we do in The Academy.
Does this Approach Work?
Here are a few examples of our typical outcomes: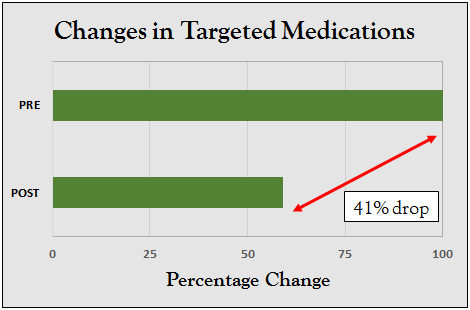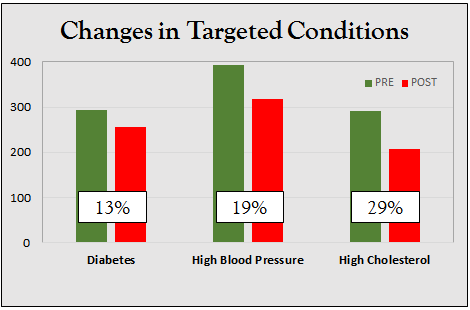 Additionally, we recently eliminated nearly $500,000 in type 2 diabetes medication expenses for three diabetes drugs at a manufacturing facility. We have written these up in a case study, which you will get when you sign up for our newsletter.
Yes, we can do this for your company!
Fill out the form below and we will be in touch. Or visit our contact page.