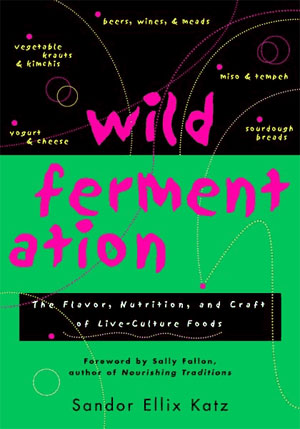 Wild Fermentation by Sandor Ellix Katz is one of our favorite books!
Why? Because fermented foods are good for you.
From the foreword, written by Sally Fallon of the Weston A Price Foundation:
Unfortunately, fermented foods have largely disappeared from the Western diet, much to the detriment of our health and economy. Fermented foods are a powerful aid to digestion and a protection against disease. And because fermentation is, by nature, an artisanal process, the disappearance of fermented foods has hastened the centralization and industrialization of our food supply, to the detriment of small farms and local economies.
There are many things you can learn to ferment from this book, like making beer, wine or vinegar. There are also the standard recipes, like sauerkraut, dill pickles, yogurt, kimchi and kombucha. But the real benefit of this book is learning the technique of fermenting.
For example, it is rather simple to make sauerkraut. You need cabbage, salt and a couple of kitchen tools. That's pretty much it. Katz takes three pages to explain and discuss this topic. Reading this book, you feel how much he enjoys preparing foods this way.
And if you take the time to read and absorb what he has written, you appreciate it more.
It's why this is one of our favorite books!