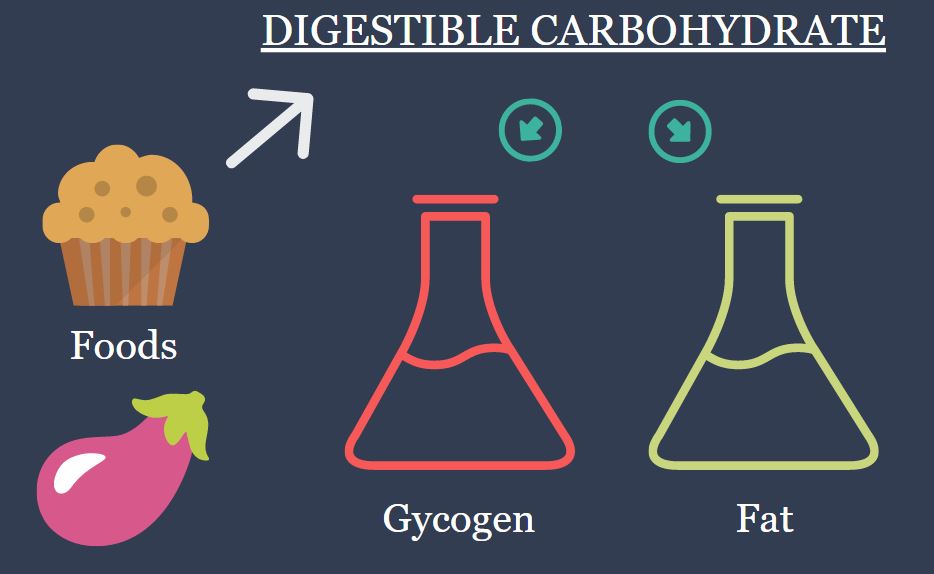 What happens to the carbohydrates we eat?
Type 2 diabetics (and many others) know they turn into blood sugar. Monitoring blood sugar is something a type 2 diabetic does daily.
But did you know that understanding what happens to blood sugar is also important? I'm not talking about whether it goes up or down after you eat a meal or snack. I'm talking about after the meal and after it has reached its peak – when it starts to go down. The blood sugar goes somewhere. Do you know where it goes?
If you don't, you should. Because knowing this will help you understand the fate of blood sugar, how you can eat to change this and what impact it will have.
Setting the Stage
It is necessary to define a key term before explaining this process and the image above.
That key term is: digestible carbohydrate. Digestible carbohydrate is the amount of carbohydrate digested by your body after eating a food. For example, one cup of zucchini contains about 12 calories (3 grams) of digestible carbohydrate. By comparison, 1 cup of diced potato contains 28 grams of carbohydrate or 112 calories from carbohydrate. However, it contains only 96 calories of digestible carbohydrate. For most foods, the difference between total carbohydrates and digestible carbohydrate is the difference in fiber content.
In both instances (and all instances of eating food) our body must deal with the digestible carbohydrate calories from the food we eat. In the explanation below, it does not matter where those carbohydrate calories come from (zucchini, potato, cake or ice cream) – the principle is still the same.
The Fate of Blood Sugar
When we eat the zucchini or potato or drink a sugary beverage, there are two outcomes for blood sugar (at least as they relate to this article): 1) some of the blood sugar will be consumed by the body to produce energy; and, 2) the rest will be stored.
The first one is easy to understand. When we eat (or drink) something, our body has to digest it. The act of digesting food is work for the body. Work for the body is done by "burning" or "producing" calories. Glucose can be used to "burn" or "produce" energy needed to do this work. So some of the blood glucose from the foods you eat will be consumed for energy production. But, depending on your circumstance and the amount of digestible carbohydrate you consumed, it is a relatively small amount. This means the rest of the blood glucose needs to be dealt with.
So what happens to the rest?
It gets stored and this is important for you to understand! There isn't much we can do – one way or the other – to impact the amount of blood sugar that is consumed for energy production. Changing foods we eat, various combinations, whatever the case may be, there isn't a significant change in the amount of glucose consumed during the digestive process. So this amount (whatever it may be) is pretty stable.
But we can have an impact on storage.
If you return to the image above, there is a cupcake and eggplant on the left hand side. The digestible portion of carbohydrate, that which doesn't get consumed during the digestive process, gets stored as either glycogen or fat tissue. That's what the arrows represent.
But how do we know what amounts goes into each and what can do to impact this?
Great questions!
First, our body would prefer to convert glucose to glycogen – the storage form of glucose. The remaining glucose, whatever doesn't get consumed by producing energy, goes through step 1. This involves converting the glucose to glycogen and storing it – in either muscle tissue or the liver (the only real places our body can store glycogen). Step 1 continues until a condition is met: 1) Our body runs out of glucose that needs to be stored. If this happens, the process stops. Blood sugar is at "normal" levels and nothing else needs to be done. Or, 2) Glycogen levels in both the liver and muscle tissue are full and unable to accept more glycogen. When our body reaches this point, we go to step 2. Step 2 is converting glucose to fat and storing it in the fat tissue. We go through this step until blood sugar is "normal" and nothing else needs to be done.
Limiting Fat Storage
If you go back and look at the image, we can see the middle section (glycogen) dictates how much glucose gets converted to fat and stored in the fat tissue.
With that in mind, there are two things we can do to effectively minimize the amount of glucose that is converted to fat and stored in the fat tissue.
First, we can increase the storage capacity of glycogen. We can do this in one of two ways. By depleting our glycogen stores through dietary changes or exercise; or, by increasing the amount of muscle tissue on our body. Both of these strategies will work to increase the amount of digestible carbohydrate that gets stored as glycogen and decrease the amount of glucose that gets converted to fat and stored as fat tissue.
The second thing we can do is limit the amount of digestible carbohydrate we eat. Overall, the less digestible carbohydrate we consume, the less there is to convert to fat and store in fat tissue.
Both of these strategies will work to decrease fat storage. As an added benefit, it will also improve the body's ability to access the fat stores, which helps improve insulin sensitivity. A positive outcome for type 2 diabetics.
Digestible Carbohydrate is an important concept to understand
Overall, as a type 2 diabetic, knowing how certain foods spike your blood sugar is important. However, knowing what happens to the digestible carbohydrate may be even more important to know.
Since we can eat foods that decrease (or limit) fat storage, we can impact our overall blood sugar. This will work to improve insulin sensitivity, so that we can control our blood sugar more naturally – instead of using medication to do it. Beyond all that, none of us like storing body fat – we don't like the way too much of it makes us feel or look, but the negative impact it has on insulin sensitivity makes it worse.
Understanding this and acting accordingly will have a positive impact on your condition.