The Health Performance Institute is supporting the Tour de Cure this year!
For every person that enrolls in The Academy through the link below, we will donate $200 to the ADA!
Why are we doing this?
It's important for us to support the American Diabetes Association.
The statistics you here repeated on type 2 diabetes generally under-report the seriousness of the condition. For example, the CDC says about 30 million Americans have type 2 diabetes and 84 million have pre-diabetes. When better screening methods are used, real numbers indicate more than 50% of American adults either have type 2 diabetes, pre-diabetes or have it and don't know.
It's expensive. Many studies show that it is the most expensive condition to have and to treat, even more expensive than many forms of cancer.
It's debilitating. The all-to-sad reality of a long-term type 2 diabetic is all sorts of co-morbidities – circulatory problems, vision problems, kidney problems, liver problems, etc.. These arise because we don't do a very good job of treating the condition or reducing long-term risk.
For HPI, supporting the ADA and this event make sense because we can have a direct and significant impact on these negative outcomes for those with this condition!
By enrolling in The Academy today, you accomplish two important goals: 1) You enroll in the best program for you and your long-term health; and 2) You have the sense of pride and accomplishment knowing that you are supporting a business that gives back to the community.
Type 2 Diabetes and The Academy
Are you pre-diabetic? Have you been diagnosed as a type 2 diabetic? Does type 2 diabetes run in your family?
If the answer is yes, you are in the right place!
Do you ever wonder if taking medication to control blood sugar is really fixing your problem?
If so, then you are in the right place!
Are you worried about your future health – kidney problems, vision problems, circulatory problems, etc…? Yes? Why? Is it because you see other type 2 diabetics experiencing these problems? Or could it be that you are starting to experience these things?
In either case, you are not alone – and your concern is well-grounded! For example, the AACE (American Association of Clinical Endocrinologists) recently stated that telling type 2 diabetic patients to control blood sugar with medication was not enough to reduce long-term risk for related complications. Think about that for a moment. Why are you told to do these things if they don't reduce your risk?
Further, the entire state of California was recently caught off-guard by the continued increase in amputations from type 2 diabetes, in spite of patients taking their medications. Isn't that sad? It's almost as if those giving advice have no clue as to what will happen down the road!
The list of examples can go on and on and on.
But your concern sheds light on two important points:
1. Type 2 diabetes is a serious condition!
It's important that you understand a few things.
First, type 2 diabetes increases your risk for practically everything else. Cancer? Yes! Kidney and liver problems? Check! Pain, circulatory and vision problems? Yes, to them too! And many more.
Second, it is expensive. According to research published in JAMA (the Journal of the American Medical Association), it's the most expensive condition to have and treat – even more expensive than cancer. The cost of medication adds up and, eventually, you will likely need more expensive medication – insulin, Januvia or Invokana, for example.
Third, it's debilitating. Do you know anyone that struggles to enjoy their life, travel, have fun, etc… because they have circulatory problems, suffer from pain in their legs or are on dialysis? These things put a significant damper on what is supposed to be a fun time in your life.
Yes, type 2 diabetes is a serious condition with serious consequences!
2. Treatment isn't Treatment!
You are told to take medication to control your blood sugar. This implies that elevated blood sugar is the problem in type 2 diabetes.
It's not!
You never get to stop taking your medication, which means the real problem isn't being addressed. You have probably been told the same as every other type 2 diabetic – you will have this condition for the rest of your life.
Since you will have this forever, it isn't being treated. It's being managed. Your blood sugar is being "managed" with medication.
To treat the condition, we have to address: "WHY blood sugar is elevated?"
As a type 2 diabetic, your blood sugar is elevated because of insulin resistance. One main function of insulin is to control blood sugar. When it is "resistant," it doesn't do that very well.
As your blood sugar continues to elevate and stays elevated, your body releases more insulin. This causes a serious double-whammy because both elevated insulin and elevated blood sugar are bad for all tissues in your body.
When you get diagnosed with type 2 diabetes, you are given medication to reduce your blood sugar, not to fix insulin resistance!
Over time, and while you are taking medication to control blood sugar, insulin stays elevated and insulin resistance gets worse. So at some point, you need other medications.
None of that is treatment.
Earlier, I mentioned how the AACE wanted doctors to inform their patients that controlling blood sugar with medication doesn't appear to reduce long term risk of complications. I also mentioned how the state of California was surprised by the increasing rates of amputations from diabetes complications.
These two things fit together and they reveal that the current approach to treatment really isn't treatment. All that's being done is your blood sugar is being managed, which doesn't reduce long-term risk. Essentially, this accomplishes nothing.
That's unfortunate for you and every type 2 diabetic on the planet.
But in spite of this, there is good news!
Who am I and why should you listen?
I will address the "Why you should listen" part first. If you have been paying attention to those you know with type 2 diabetes, any of the news reports on type 2 diabetes or anything you have read on this page, you are aware that this is a serious condition. You should listen because what you now realize is that voice in your head was correct. Following the standard treatment protocols isn't really addressing your problem.
Why?
Because targeting blood sugar, while ignoring insulin resistance, allows insulin to remain elevated. Remember, this is a serious problem too. Over time, it causes microscopic damage that builds up. Eventually, this build up takes a toll on organs, your circulatory system and more. This is when you start experiencing kidney problems, vision or circulatory problems, pain issues or any of the other related complications.
If this concerns you, you need to be serious about addressing this problem. Once you get serious about addressing it, you can have a different outcome.
Who am I?
My name is Brian Sekula. I am the Founder, President and CEO of the Health Performance Institute (HPI).
I have a doctoral degree in physiology and statistics. I have worked at NASA-JSC, doing research on astronauts and cosmonauts (Russian astronauts) on health-related issues after space flight. I have been a college professor, teaching classes and doing research in cardiovascular disease, research methods, and more. I started HPI over 13 years ago with the sole purpose of helping those with chronic conditions get better. We specialize in helping type 2 diabetics. I am also an Advancement Team Board Member of the American Diabetes Association for the Central and South Texas region.
This is excellent, because our mission is to eliminate type 2 diabetes by the year 2020.
Today, we work with people that come to us in one of two ways: 1) They have come directly to us on their own or 2) We have contracted with their employer to help them.
We help them with a program called The Academy.
The Academy is a lifestyle-based program focused on four anchors of health: Food, Sleep, Stress and Exercise. The details are covered below.
Being at-risk for or having type 2 diabetes is what brought you to this page. Answering yes to any of the questions at the top is what kept you here. The Academy is what will help you achieve your goals and objectives.
The Academy – A serious program for serious people
Are you serious about addressing your type 2 diabetes? You should be!
At HPI we are completely, totally and wholly dedicated to helping you. You won't find anyone more serious in our dedication to help you than us.
If you are serious, continue reading to learn how we can help you.
The Material
Everything you will do in The Academy is geared toward improving insulin resistance. Everything! The outcome is that your body will be able to control blood sugar naturally, like it is supposed to do.
This means you will be less reliant on medication.
We are told daily by our clients they are no longer on medications, or their medications have changed, or their A1c has dropped significantly. This is because our sole focus is helping you improve insulin resistance. There is no reason in the world these results can't be the same for you.
What is the value of not having to take these medications? What is the value of comfort and freedom – knowing that the inevitable outcomes are not part of your future? Is there value in these things? Of course there is! I can put a dollar value on medication. I can't, however, put a dollar value on your freedom. That is up to you to decide. Not having to worry about medications, complications or even dialysis is a major, life-changing value.
All of that will happen in The Academy. All of it!
These are the 8 main topics covered in The Academy.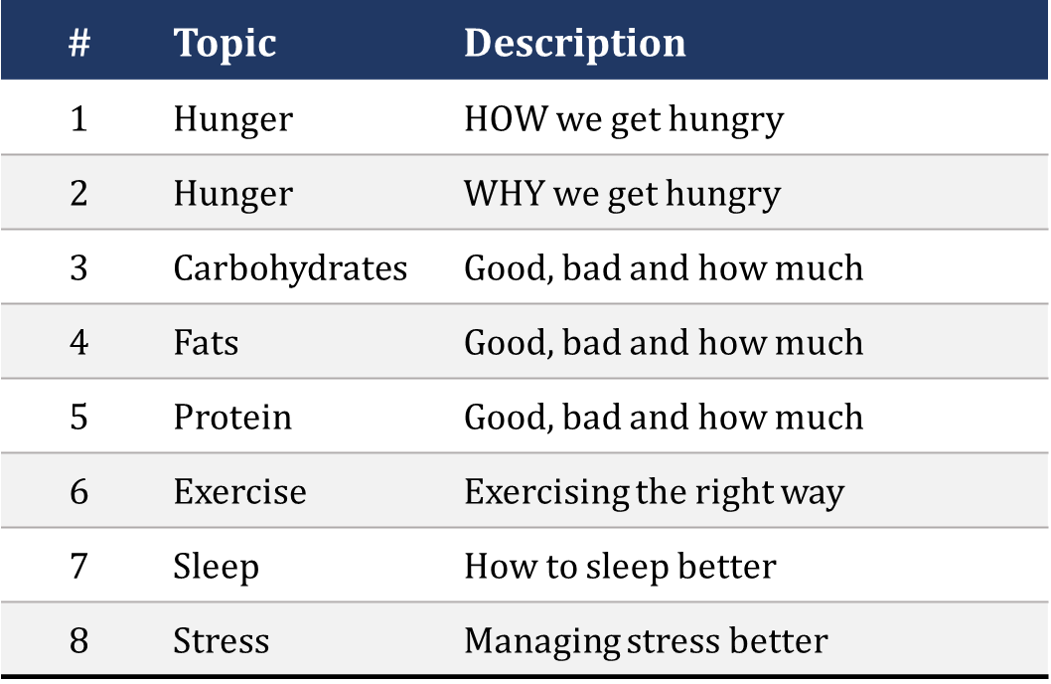 There are also four bonus topics not listed here.
All topics include the following:
Reading Material: With background information on why we tell you what to do.
Guide: This is a step-by-step document that tells you exactly what to do.
Videos and Audio: There are videos on the topic and guide as well as audio from live presentations on these topics. You can download the audio and listen to it anywhere you'd like.
Additional Resources / Bonus Material: There are handouts, charts, worksheets, workout guides, just about anything you can possibly need is at your fingertips.
Recipes: Recipes compliant with our recommendations.
To give you an idea of what this might look like, here is a Facebook live video I did covering the 4 things all type 2 diabetics MUST do to improve insulin resistance.
In addition to the material, here are two other things you need to know:
We have a PRIVATE Facebook group for those in The Academy. When you enroll, you get access. We are there to help you with answering questions, doing live videos, any of the things that we can do to ensure your success.
You will get access to our website and the weekly Group Coaching Sessions for 1 year (more on this below).
Remember, all of this is intended to give you the tools, guidance and direction you need to take the necessary steps to improve insulin resistance.
All of this about The Academy to this point refers to the content. The content is excellent but it's the coaching with this version of the program that really makes us successful!
Coaching – it sets us apart!
We could have the best material on the planet within The Academy – and we think we do. For example, our food recommendations are tasty, easy to follow and accomplish the objective of improving insulin resistance. But none of that matters if we aren't able to help you get through it, manage your schedule, make changes and, ultimately, reach your goals.
The coaching we provide is what helps you get through all of this – it provides the clarity, confidence and support you need to take this journey. While the material mentioned above separates us from the crowd, this coaching puts exponential distance between us and any other program available to you.
With this version of The Academy, your coaching includes the following: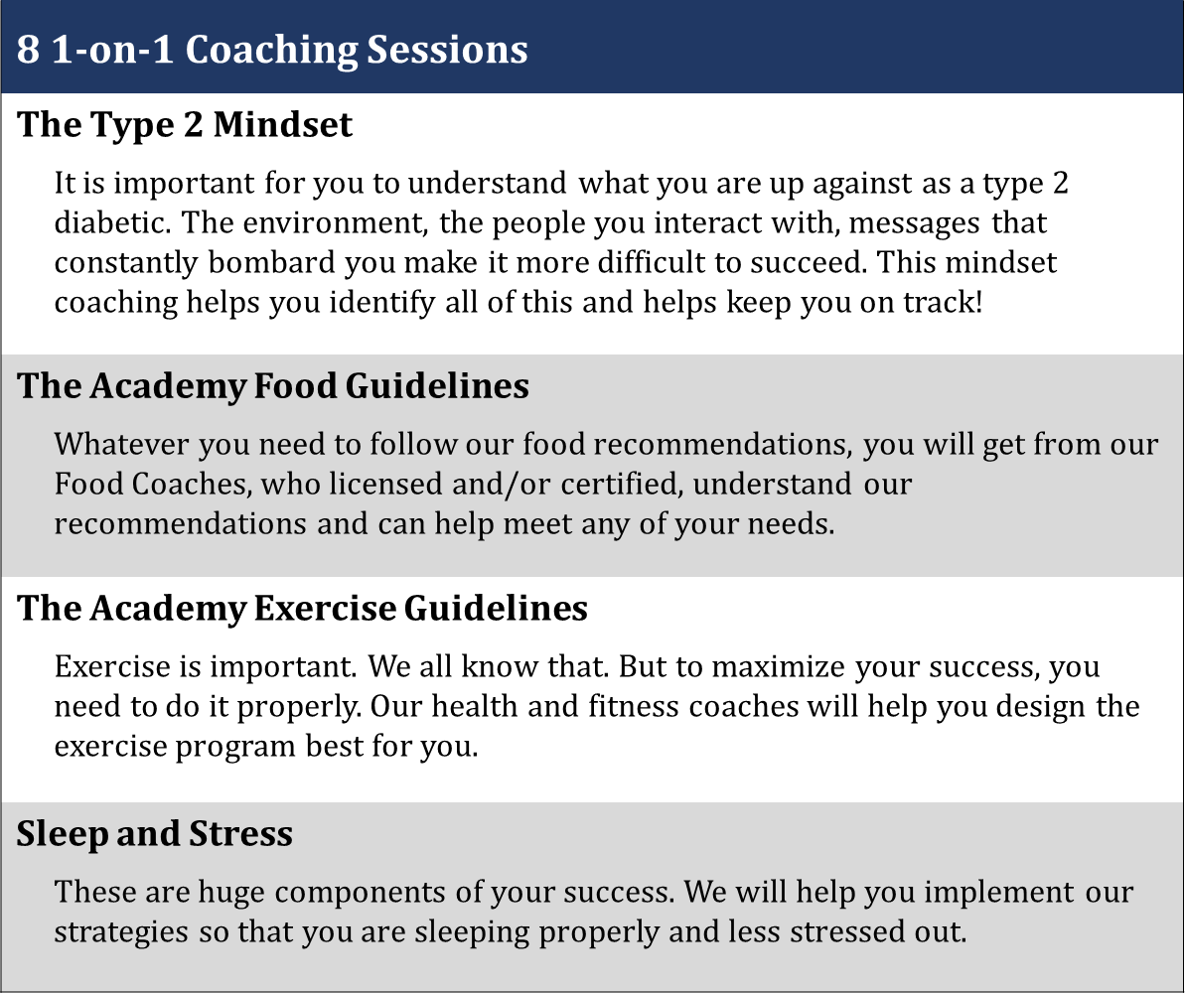 Notice there is no specific number on any of the topics above. This is by design. We can be flexible and dedicate them to the topics you need most help with.
We also hold group coaching sessions via webinar. They are for this version of The Academy and provide a place for you to get support, find inspiration and get your questions answered. These are held at various times and days so we can maximize attendance for everyone.
Enrolling in The Academy!
If you are serious about addressing type 2 diabetes and wanting a different outcome, The Academy is the program that will help you get there. And don't forget, $200 from every person that enrolls will be donated to the ADA, giving us and them more resources to fix all of these problems!
What is it worth to you to get control of your blood sugar, get off your medications or have no worries about long-term complications?
With the benefits and features, including all of the material, our private Facebook group, the 1-on-1 and group coaching with experts, and everything else, this is the best program you have available to you.
Normally, it's $3,900 to enroll in this version of The Academy, but…
As a special and in support of the Tour de Cure you can get in today for only $2900!
That's a $1000 savings
Plus you get the personal satisfaction of knowing that you are also contributing to a great cause!
To enroll today, click the Enroll Now button and complete your transaction. Once your transaction is complete, you will be taken to the account creation page. This is where you will create your account at our website, which is what kicks all of this off!

If you want to enroll in The Academy but want to do so without the coaching, this option is for you!
This version of The Academy is normally $799 but through this offer, you can enroll for $699!
That's a $100 savings!
Plus, for every person that enrolls in this version of The Academy, we will donate $75 to the ADA!